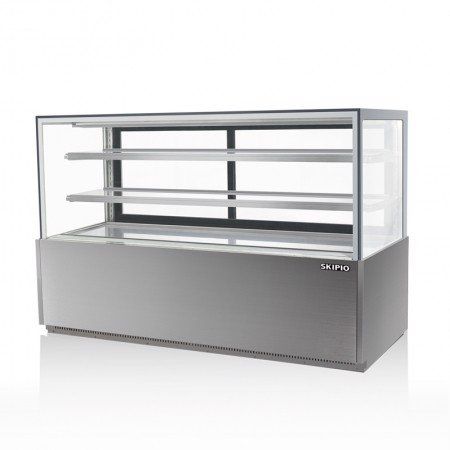 Bakery Showcase 3 Layers SKIPIO SB1800-3RD
The SKIPIO SB1800-3RD with outstanding cooling properties is evaluated by experts for safety and ensures the best product quality when displayed in the cabinet. SKIPIO display cabinet deserves to be a display cabinet dedicated to large restaurants and bakeries.
Product Details
Shelves

3

Dimensions

1800 x 800 x 1300

mm

Weight

300 kg

Power

802 W

Capacity

590L

Temperature

3 --> 8*C

Refrigerant

R134A

Voltage

220V - 60Hz - 1phase
Outstanding Features
With a capacity of 590 liters and a 3-storey design, stores can comfortably display their products with all kinds of designs.

SKIPIO refrigerator owns R-134a refrigerant which is rated as specialized and safe, but still ensures the best price for users. R-134a for the refrigerator to quickly reach the desired temperature. And keep that temperature even for a long time of use.

Equipped with the most modern insulation available today: Polyurethane / Cyclopentane + CFC Free allows the SKIPIO Display Cabinet to achieve good thermal stability and is almost unaffected by outside temperatures - which makes your products easy to use. easily lost its wonderful original structure.

Modern design, extremely high detail finishing makes the machine capable of durable operation

Solid, modern cabinet glass helps the cabinet not to fog up. Your products are always kept in the best place and absolutely do not limit the view of the buyer.