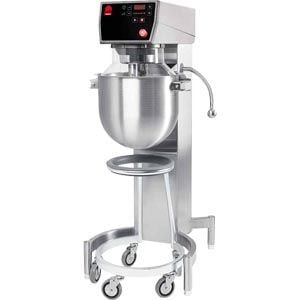 Varimixer Kodiak30, 30 Liters Powder Mixer on Floor
Very simple to operate, no heavy lifting and recipient of the Kitchen Innovations Award for the most hygienic mixer on the market. KODIAK is the result of a design process in which professional users helped to create the ideal mixer, that meets the daily demands and challenges.
Product Details
Capicity

30 Liters

Size

1365 x 630 x 770

mm

Attack speed

64 - 353 circle/min

Voltage

230-240V - 50-60Hz - 1phase

Wattage

1200W

Weight

190 kg



Outstanding Features
TWO MACHINES IN ONE The KODIAK 30-litre model can be supplemented with a smaller 15-litre bowl and associated tools, for production in reduced quantities. This increases the machine's versatility.

VERY SIMPLE INTUITIVE OPERATION Set the time and speed. Press start and stop. It's that simple, and everything is controlled at an ergonomic working height from the angled control panel.

STAINLESS STEEL Made of easy-to-clean stainless steel with a strong frame and high, adjustable legs, to allow cleaning under the machine. The bowl, whip, beater, dough hook and scraper are also made of stainless steel and are dishwasher-safe.

WORLD'S MOST EFFECTIVE WHIP Unique design increases speed at the periphery and reduces the working time.