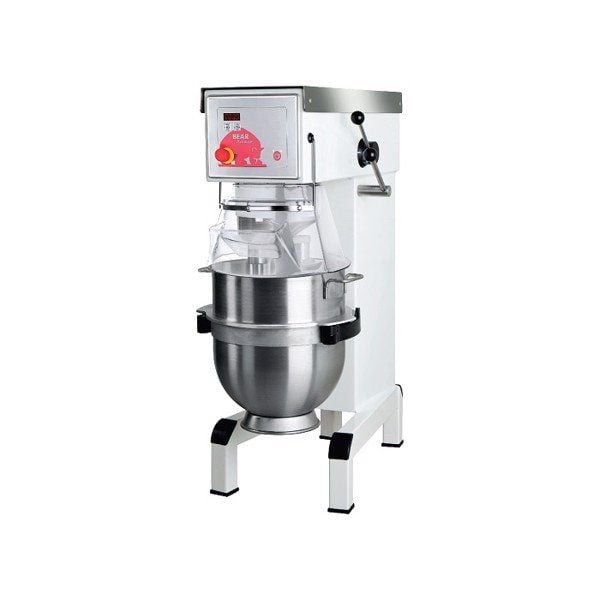 Varimixer AR80- 80 Liters | Powder Mixer
Original:

Danmark
Brand:

Varimixer
Next →
Varimixer AR80, 80 Liters Powder Mixer
The legendary Varimixer AR series meets the requirements for rugged, powerful 30, 40, 60, 80 and 100-litre mixers. It boasts infinitely variable speed and a unique ergonomic and time-saving mechanism that lowers, raises and locks the bowl in place in an automatic movement, making operation of even the largest machines quite simple. There are many options for customisation to special requirements.
Product Details
Capicity

80 Liters

Size

1470 x 654 x 1150

mm

Attack speed

47 - 257 circle/min

Voltage

400V - 50Hz - 3phase

Wattage

2900W

Weight

340 kg



Outstanding Features
MULTIPLE CAPACITIES IN ONEMACHINE Bowls and tools for production at half volume are available for models from AR30 to AR80. AR100 can be equipped for production capacities of 100, 60 and 40 litres.

MEAT MINCER AND VEGETABLE CUTTER The models from AR30 to AR80 are available with an attachment drive, to expand the mixer's potential applications.

PLASTIC OR STAINLESS STEEL SAFETY GUARD The AR series comes as standard with fixed safety guards made of CE marked and EU-approved plastic, with a chute that allows ingredients to be added during operation. It is also available with a detachable plastic guard, or a fixed or detachable stainless steel guard.

EASY BOWL HANDLING Choose between a manual bowl trolley for transport or an electric lifter, which handles transport to and from the machine and all bowl lifts. This also ensures good ergonomics during filling and emptying. Choose between several models.