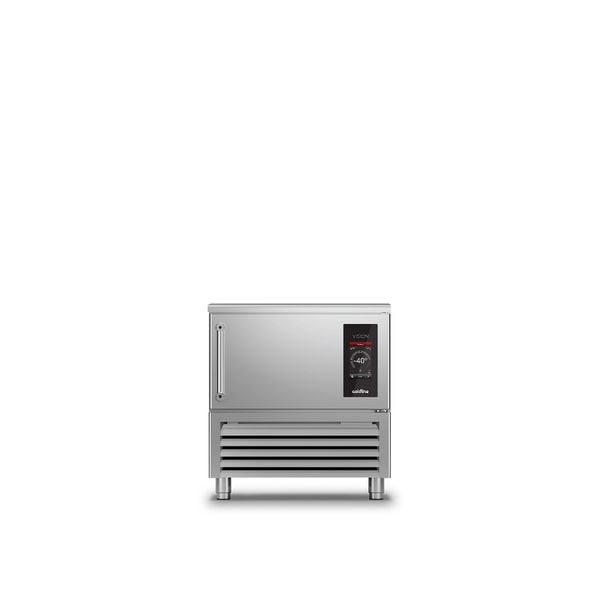 Coldline Vision 5T Blast Chiller F (-40ºC +65ºC)
Blast chilling, shock freezing, thawing, proving and retarder prover, holding, desiccation, chocolate, yoghurt, steam sanitizing, manual cycle
Product Details
Tray

5 slides GN1/1, EN60x40

Climate class

5 (max.40*C with 40% RH)

Gross capacity

134 L

Dimensions

780 x 859 x 853 mm

Gross weight

120 Kg

Temperature range

-40 + 65*C

Cooling gas

R452A

Defrost

Hot gas

Voltage

220-240 V - 50 Hz

Total rate

1430 W

Cooling capacity

1565 W

Control

7" touch screen display with USB port

Functions

Blast chilling, shock freezing, thawing,
proving and retarder prover, holding,
desiccation, chocolate, yoghurt, steam
sanitizing, manual cycle
Applicants
Blast chilling: Quickly cools fresh or cooked food to a core temperature of +3 ºC
Shock freezing: Quickly cools fresh or cooked food to a core temperature of -18 ºC
Thawing: Safely and quickly thaws food while maintaining the original quality.
Proving and retarder prover: Creates the ideal micro-climate by adding moisture for perfect proving.
Holding: Maintain ice cream, desserts, cakes and dishes at a temperature ready.
Desiccation: Gently dehydrates food and extends storage times.
Chocolate: Pralines, chocolates and chocolate bars crystallise in a few minutes.
Yoghurt: Allows you to make creamy natural yoghurt using only good-quality milk.
Steam sanitizing: The blast chiller compartment is steam sanitised, thus removing odours and food residues
Manual cycle: Keeps food at temperature between -40 ºC +65 ºC
Characteristics
Modular base: Allows installation on wheels, feet, fixed or mobile base.
Electronic thermostatic valve Regulates the quantity of the refrigerant fluid gas injected, improving performance by 25% and reducing consumption.
Replaceable gaskets with high performance insulation: Triple chamber geometry with innovative D7 compound, which produces 35% higher insulation efficiency than traditional models.
Air flow circulation conveyor: The innovative air circulation system envelops the food while reducing the time of the cooling cycle.
Easy maintenance: The quick release system for the front panel allows the condenser battery to be cleaned quickly, ensuring that its performance over time remains constant.
Slides and racks: Removable quick-release racks without the need for use of tools, with positioning holes that facilitate air circulation and allow easy repositioning of EN60x40 and GN1/1 slides.
Ventilation panel opening: Easily inspected evaporator with the quick opening system for easy cleaning and maintenance.
Core probe: Developed with an exclusive ergonomic design, it can be easily dismantled and replaced thanks to a simple connector. Multipoint or heated optional.
Interior lighting: The lighting makes the visibility in the chamber excellent. LED technology ensures low consumption and does not alter the internal temperature of the compartment.
Devote®: Sensor-less technology optimizes the duration of the blast chilling and blast freezing programs, ensuring significant energy savings.
Stainless steel texture The stainless steel chamber is made more resistant by its particular texture.
Insulation thickness The thickness of the door has been increased to 80 mm, which allows for a better insulation performance and greater energy savings.
Manufacturer Introduction
TRANSFORMING THE WAY WE THINK ABOUT TECHNOLOGY
Technological innovation, simplicity of form, modularity and ease of use are the principles that inspire our research and development. We are committed to technologically advanced solutions which offer concrete benefits to professionals in the HO.RE.CA.
DESIGNING SIMPLICITY
Every year we create ideas and solutions that result in numerous patents. We collaborate with the University of Padua and other important research centres in one of the most important internationally recognized regions for cold, chilling and freezing.
QUALITY WITHOUT COMPROMISE
All the devices are tested in our laboratories under extreme conditions, enabling us to offer appliances which provide optimal performance even when subjected to intensive use. To ensure excellent quality, all business processes are carefully monitored by qualified personnel in compliance with UNI EN ISO 9001:2015 standards.