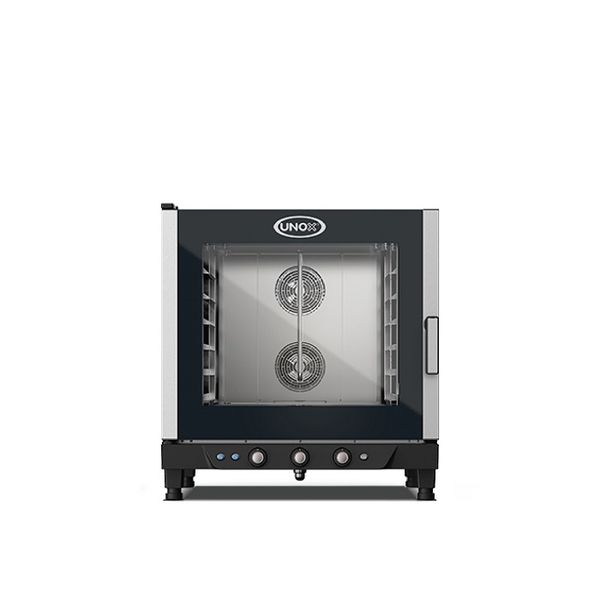 Unox Bakerlux Eco 6 Trays 600x400 (Manual)
Convection oven UNOX Bakerlux with a convection grill from 30 - 260 degrees C, using exclusive technology new AIR.Maxi ensures even diffusion of air, helping the product to cook evenly quickly. Currently, UNOX is the leading brand of convection ovens in the market with outstanding features and technologies
Features
Baking Modes
- Convection baking 30 – 260°C
- Convection baking - Humidity 48°C - 260°C
Air Distribution In The Baking Chamber
- AIR.Plus technology: multiple auto-reversing fans
Clima Management In The Baking Chamber
- DRY.Plus technology: rapid humidity extraction
- STEAM.Plus technology: manual humidity activation
Auxiliary Functions
Protek.SAFETM technology: maximum thermal efficiency and working safety, cool door glass and external surfaces
Visualisation of the residual baking time
Continuous functioning "INF"
Patented Door
Door docking positions at 60°-120°-180°
Technical Details
Rounded stainless steel AISI 304 baking chamber for hygiene and ease of cleaning
Cavity lighting through external LED lights
Side opening internal glass to simplify the door cleaning
Stainless steel L-shaped rack rails
Light weight - heavy duty structure using innovative materials
Safety temperature switch
Product details convection oven Unox Bakerlux Eco 6 trays (600x400mm)
| | |
| --- | --- |
| CODE | XB693 |
| Capacity | 6 Trays 600x400 mm |
| Pitch | 80 mm |
| Demenstions | 860x882x930 mm |
| Weight | 80 Kg |
| Type of opening | Right to left |
| Voltage | 400 V – 3P – 50/60 Hz |
| Powder | 15.5 kW |
| Humidity | Yes |
| Convection baking | 30 – 260°C |
| Mixed humidity an convection baking | 48 – 260°C |
About Unox
Unox was incorporated in 1990 and breaks into the market of professional ovens with a product designed to bake frozen bread and frozen croissants without proofing.
Thanks to the new AIR.MaxiTM technology that guarantees uniform air diffusion using multiple fans, UNOX immediately established itself as a market leader.
Our first ovens were the result of ideas, passion and pure craftsmanship. We have been able to create excellent products even when the help of technology was not possible, always looking for innovative solutions and smart thinking. We always pursuit continuous improvement not only in manufacturing processes but also in the tools and technologies we use to design our products.
United Vision offers a UNOX convection oven at the most attractive price and mode
United Vision is a provider of raw materials and machinery in the F&B industry. UNOX is one such product. When buying a UNOX convection oven at United Vision, customers will:
- Delivery and machine assembly
- 1 year warranty includes: use consultation, repair, machine maintenance from skilled technicians at United Vision
- Customers will experience the actual product, see the demo before deciding to buy the product
When you become a United Vision customer, you will experience "One Stop Service" - everything you need in the F&B industry can simple found at United Vision.
In particular, customers can often:
- Take part in training courses on baking and ice cream making by famous chefs at home and abroad.
- Experts at home and abroad are always ready to advise on formula, professional support when needed.