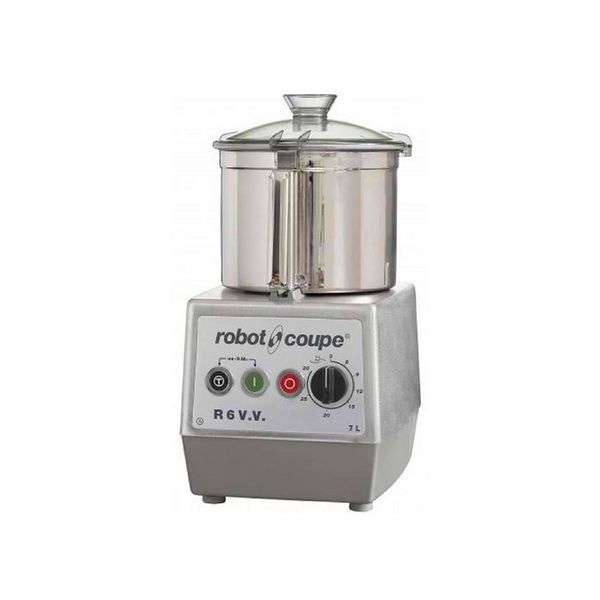 Table Top Cutter, Mixers Robot Coupe R6 V.V
Features
The must for pastry and kitchen chefs!
With its bowl-base twin-blade assembly - a Robot-Coupe innovation - it is the ideal assistant in your kitchen. All preparations can be made by simply pressing a button: emulsions and sauces; mince meat and fish; chop onions, herbs and spices; grind nuts, chocolate or praline; knead dough.
Auxiliary Functions
The R-Mix ® function is designed for reverse rotation mixing at a variable speed of 60 to 500 rpm to incorporate whole pieces of meat, crayfish tails, bruises and diced vegetables to pates and terrines, whole raisins to buns, etc.
5.5-litre stainless steel cutter bowl with handle.
Bowl-base twin-blade assembly for working small and large quantities.
Coarse serrated blade: Optional extra, recommended for grinding & kneading.
Fine serrated blade: Optional extra, recommended for herbs & spices.
From 300 to 3500 Rpm for more control, precision and versatility.
Product details
| | |
| --- | --- |
| CODE | 24314 |
| Power | 1300W |
| Voltage | 400V/50/3 |
| Variable Speed | 1500 – 3000 rpm |
| Dimensions | 280 x 350 x 520 mm |
| Gross Weight | 24.8 kg |
Delivered With:
When buying Robot Coupe R6 V.V. Customers will be able to choose more options and accessories related to the machine so that you can unleash your creativity and make all the cakes and juices that you want:
About Unox
It is in France, in the heart of Burgundy, a well-known region for its gastronomy, that Robot - coupe has created more than 60 years ago the Robot-Coupe food processor.
As precursor and incontested leader, Robot-coupe, manufacturer of food preparation equipment, offers a wide range of machines adapted to each professional needs (restaurants, institutions, delicatessens, caterers...)
Enjoy the best "One-stop service" at United Vision
When buying the Robot Coupe at United Vision, customers will:
After-sales service support: manual, cleaning the blender in the most detailed and anytime the customer needs.
When you become a United Vision member, you will be attend baking training classes organized by United Vision. At each training session, you will be provided with knowledge and observation of the entire process of baking, making ice cream and so on from professional chefs at home and abroad.
Besides, we also support cake recipes, consulting, solving problems in the F&B industry.