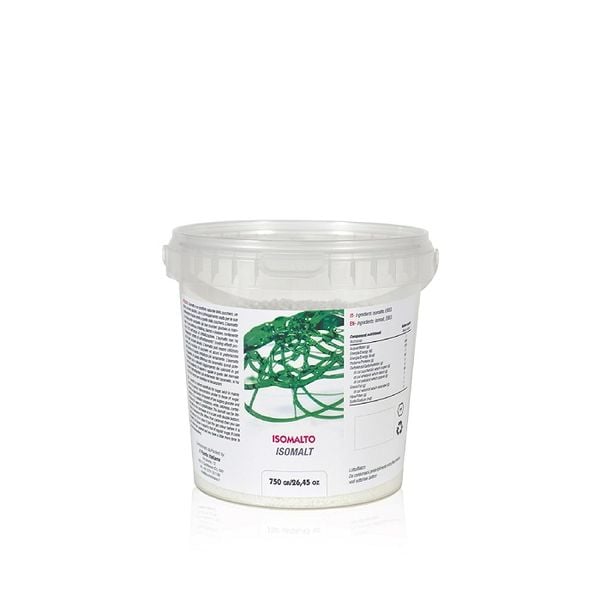 Isomalt
Original:

Italia
Brand:

IL Punto Italiana
Details:
It is a white, odourless, crystalline substance containing approximately 5% crystalline water.
Isomalt can microwave or in a pan with two bases.
Isomalt transparent can colour (add gel colour before dissolving).
It cools more slowly than caramel. You have more time to decorate the pattern.
Next →
Applicants
Isomalt is used popularly in various products such as hard candies, truffles, chewing gum, sugar-coated products, chocolate, cakes, jams, ice creams, and powdered drinks.
Charateristics
Isomalt sugar is also known as diet sugar because it contains a low amount of energy only about 2kcal / g.
Using isomalt does not increase insulin, does not affect blood sugar, so it is suitable for people with diabetes, diet.
Manufacture Introduction
IL PUNTO ITALIANA is a company born from thirty years of experience and passion in the confectionery industry of its founder. Our product is based on pastry decorations and also includes a wide range of products designed to meet the needs of customers and increasingly innovative demands of the moment successfully ensuring the product quality and the brand "made in Italy".

IL PUNTO ITALIANA produces a complete range of colorings (metallic, hydrosoluble, "vellutina" colored cocoa butter spray), liquid colorings (water soluble for airbrush, lipo soluble for chocolate), powders (water soluble, lipo soluble, metallic), concentrated gel colorings, food pens and alimentary inkjet), shinning spray for chocolate and baked products, anti-stick oil (liquid and spray) for stamps and mould, cooler spray for chocolate, additives.