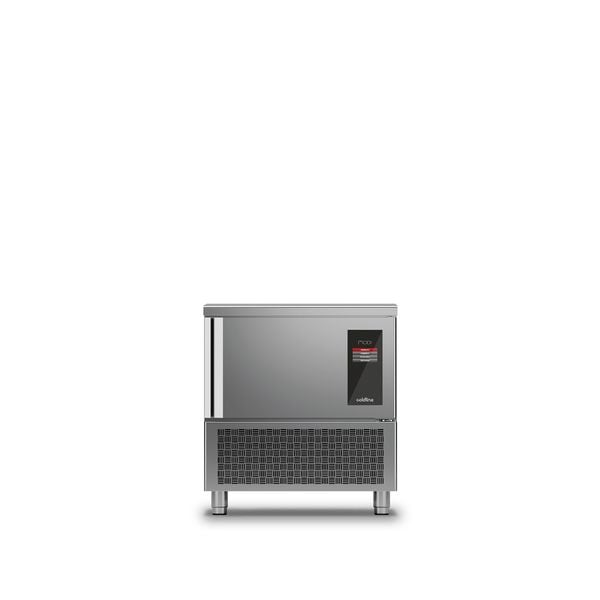 Coldline Modi 5T Blast Chiller Up (-40ºC +10ºC)
Blast chilling, shock freezing, continuous cycle
Product Details
Tray
5 slides EN60x40
Climate class
5 (max.40*C with 40% RH)
Gross capacity
114L
Dimensions
780 x 800 x 853 mm
Gross weight
110 Kg
Temperature range
-40 + 10*C
Cooling gas
R452A
Defrost
Hot gas
Voltage
220-240 V - 50 Hz
Total rate
1300 W
Cooling capacity
1755 W
Control
4,3" touch screen display with USB port
Functions
Blast chilling, shock freezing,
continuous cycle
Applicants
Blast chilling, shock freezing, continuous cycle
Characteristics
Defrost: Hot gas
Control: 4,3" touch screen display with USB port.
Doors: Cushioned, with anti-odor system, magnetic, triple chamber and easily replaceable.
Manufacturer Introduction
TRANSFORMING THE WAY WE THINK ABOUT TECHNOLOGY
Technological innovation, simplicity of form, modularity and ease of use are the principles that inspire our research and development. We are committed to technologically advanced solutions which offer concrete benefits to professionals in the HO.RE.CA.
DESIGNING SIMPLICITY
Every year we create ideas and solutions that result in numerous patents. We collaborate with the University of Padua and other important research centres in one of the most important internationally recognized regions for cold, chilling and freezing.
QUALITY WITHOUT COMPROMISE
All the devices are tested in our laboratories under extreme conditions, enabling us to offer appliances which provide optimal performance even when subjected to intensive use. To ensure excellent quality, all business processes are carefully monitored by qualified personnel in compliance with UNI EN ISO 9001:2015 standards.