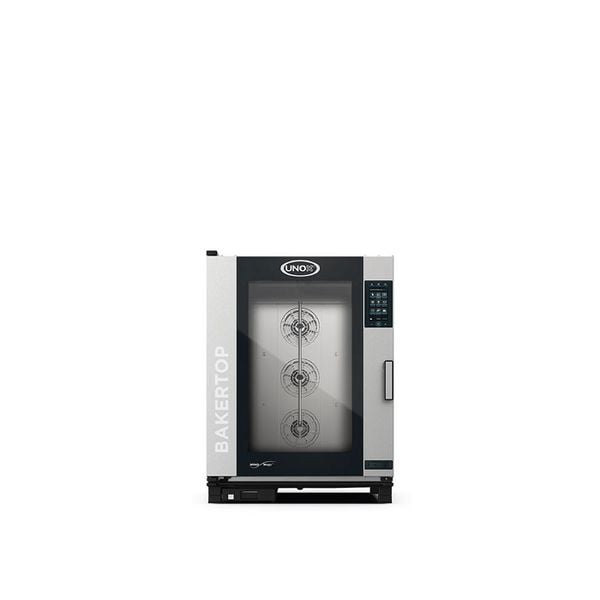 Unox Bakertop Mind.Maps Plus 10 Trays 600x400
The bakertop Mind.Maps plus 10 trays 600x400 oven has many outstanding features compared to other lines, providing optimum convenience for chefs and bakeries. The intelligence and the advanced technology of the Oven will fascinate you immediately.
Features
Unox Intelligent Performance
- ADAPTIVE.CookingTM: automatically regulates the cooking parameters to ensure repeatable results
- CLIMALUXTM: total control of the humidity in the cooking chamber
- SMART.Preheating: sets automatically the temperature and the duration of the preheating
- AUTO.Soft: manages the heat rise to make it more delicate
- SENSE.Klean: estimates how dirty the oven is and suggests appropriate automatic cleaning
Unox Intensive Cooking
- DRY.MaxiTM: rapidly extracts the humidity from the cooking chamber
- STEAM.MaxiTM: produces saturated steam starting from 35°C
- AIR.MaxiTM: multiple fans with reverse gear and 4 speed settings
- EFFICIENT.Power: ENERGY STAR certifed energy effciency
- PRESSURE.Steam: increases the saturation and temperature of steam
Data Driven Cooking
- Wi-Fi connection
- ddc.unox.com: control the oven usage in real time, create and send recipes from your PC to your ovens
- DDC.App: monitor all connected ovens in real time from your smartphone
- DDC.Coach: analyses the way in which you use the oven and suggests personalised recipes
Manual Cooking
Convection cooking from 30°C to 260°C
Mixed convection + steam cooking starting from 35°C with STEAM.MaxiTM from 30% to 90%
Convection + humidity cooking starting from 48°C with STEAM.MaxiTM from 10% to 20%
Saturated steam cooking starting from 48°C to 130°C with STEAM.MaxiTM 100%
Convection cooking + forced humidity extraction from 30°C with DRY.MaxiTM from 10% to 100%
Cooking with core probe and DELTA T function
MULTI.Point core probe
Advanced And Automatic Cooking
MIND.MapsTM: draw the cooking processes directly on the display
PROGRAMMES: up to 384 programmes that can be saved with name, picture or handwritten signature
CHEFUNOX: choose something to cook from the library and the oven will automatically set all the parameters
MULTI.Time: manages up to 10 cooking processes at the same time
MISE.EN.PLACE: synchronises the insertion of pans so that all the dishes are ready at the same time
Automatic Cleaning
Rotor.KLEANTM: 4 automatic cleaning programmes
Rotor.KLEANTM: water and detergent level detector - excluding models XEVC-0311-EPRM / XECC-0523-EPRM
Integrated DET&RinseTM detergent container
Auxiliary Functions
Electromechanical and automatic horizontally-opening door, right-to-left; only for Matic versions
Auxiliary Functions
Preheating up to 260°C can be set by the user for each programme
Remaining cooking time display
Holding cooking mode "HOLD" and continuous functioning "INF"
Display of the nominal value of the cooking parameters
Performance And Safety
Protek.SAFETM: automatic fan stop on opening the door
Protek.SAFETM: power modulation of electricity depending on actual need
Technical Details
9.5" touchscreen capacitive control panel
7" touchscreen resistive control panel
Drip collection system integrated in the door and functional even with the door open
Removable drip tray that can be connected to the drain
4-speed multiple fan system and high-performance circular resistance
Detachable internal glass door for ease of cleaning
Proximity door contact switch
Self-diagnosis system to detect problems or breakdowns
Product details convection oven bakertop Mind.Maps plus 10 trays 600x400
| | |
| --- | --- |
| CODE | XEBC10EUEPRM |
| Capacity | 10 Trays 600X400 mm |
| Pitch | 80 mm |
| Demenstions | 860x967x1163 mm |
| Weight | 148 Kg |
| Type of opening | Right to left |
| Voltage | 400 V – 3P – 50/60 Hz |
| Powder | 21 kW |
| Humidity | Yes |
| Convection baking | 30 – 260°C |
| Mixed humidity an convection baking | 30 – 260°C |
About Unox
Unox was incorporated in 1990 and breaks into the market of professional ovens with a product designed to bake frozen bread and frozen croissants without proofing.
Thanks to the new AIR.MaxiTM technology that guarantees uniform air diffusion using multiple fans, UNOX immediately established itself as a market leader.
Our first ovens were the result of ideas, passion and pure craftsmanship. We have been able to create excellent products even when the help of technology was not possible, always looking for innovative solutions and smart thinking. We always pursuit continuous improvement not only in manufacturing processes but also in the tools and technologies we use to design our products.
United Vision offers a UNOX convection oven at the most attractive price and mode
United Vision is a provider of raw materials and machinery in the F&B industry. UNOX is one such product. When buying a UNOX convection oven at United Vision, customers will:
- Delivery and machine assembly
- 1 year warranty includes: use consultation, repair, machine maintenance from skilled technicians at United Vision
- Customers will experience the actual product, see the demo before deciding to buy the product
When you become a United Vision customer, you will experience "One Stop Service" - everything you need in the F&B industry can simple found at United Vision.
In particular, customers can often:
- Take part in training courses on baking and ice cream making by famous chefs at home and abroad.
- Experts at home and abroad are always ready to advise on formula, professional support when needed.